The Christmas ads are just starting on the telly, all the Christmas goodies are appearing in the shops, so it must be that time of year to book up our Christmas meal!
It does seem a little early to start thinking about Christmas, but in Christmas Meal booking terms, it's just around the corner!
We are having our Xmas night out on
Saturday 5th December at the Llandoger Trow Inn
, as we have done in previous years! They always look after us and the food is good value for money and all served up on time! Hopefully this early December date shouldn't clash with your family parties and office do's, and will be a great way of kicking off the festive season!
Our Christmas night out is open to all BMSC members, partners, families and friends! The cost per person is £12.99 (one pound less than last year!) for the three courses, and you can also upgrade your roast turkey meal with extra helpings for an extra £1.49.
Nothing to pay up front - but please bring cash with you on the night to pay for your meals. No cards or cheques please!
Meeting in the downstairs bar for drinks from 7:00pm onward, we will be seated to dine at nine. Please try and be there no later than 8:45. The Premier Inn is adjoined to the Llandoger, so if you fancy staying the night, I suggest you book up as soon as possible!
As usual, we will be pre-ordering our food! Plenty of time to get your orders in, but if you could let me know what your meal orders are in good time before Saturday 21st of November at the latest, that would be great! Please reply on here, PM me or call or text me on 07816 194736. If you are ordering for more than one person, please could you make it clear who is having what! I will bring a copy of the meal orders with me on the night - there's always a few who can't remember what they ordered! ( A few drinks can have that effect!)
Here is the menu-
STARTERS
Tomato Soup with Roasted Red Peppers
(Suitable for vegetarians)
Tomato soup topped with roasted red peppers and served with half a toasted ciabatta
Prawn Cocktail
A great classic, juicy prawns in a delicious sauce, served on a bed of crisp lettuce. Accompanied by brown bread and butter
Coarse Pork Pâté
Served with apple & Drambuie chutney and slices of toasted bread
Garlic & Herb Breaded Mushrooms
Served with Bourbon BBQ dipping sauce
MAINS
Roast Turkey
Slices of tender turkey with golden roast potatoes, Yorkshire pudding, chipolata, Brussels sprouts, root veg mash, sage, cranberry and onion stuffing and gravy. A true festive favourite
Get all the trimmings and more for 1.49 extra - includes extra turkey, roast potatoes, Yorkshire pudding and gravy. Treat yourself it's Christmas!
Festive Beer Battered Fish and Chips
(May contain bones)
Hand battered to order, served with chips, delicious garden peas and a creamy tartare sauce
Spinach & Ricotta Lasagne
(Suitable for vegetarians)
Grilled until golden, and served with a lightly dressed salad garnish and garlic bread
Festive Beef Burger
A 6oz beef burger topped with Brie and cranberry sauce, served in a burger bun with sliced tomato, iceberg lettuce, red onion and burger sauce. Served with potato dippers and coleslaw
Sorry - no steak on the menu this year!
DESSERTS
(All suitable for vegetarians)
Christmas Pudding
Served with brandy sauce, chopped cranberries and a mint leaf. Irresistibly warm and rich
Ice Cream Sundae with After Eight®
Vanilla and chocolate flavour ice cream with After Eight® mints.
Drizzled with mint and chocolate flavour sauce and topped with squirty cream and an After Eight® mint
Caramel Apple Betty
Served with creamy custard
Chocolate Melt in the Middle Pudding
Rich melt in the middle chocolate fondant with vanilla ice cream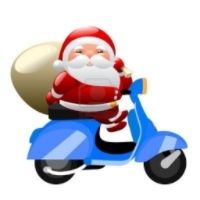 Looking forward to seeing you all on the night, and may I be the first to wish you all a Very Merry Christmas!